Getting Started Guide
A step-by-step guide to accessing 1x1 Meetings in the Virtual Event Platform
To limit technical issues and stress the day of the conference, please log into the Issuer Direct platform and follow these instructions to confirm you're able to access video meetings.
The platform works best on Chrome, Firefox, or Safari. Video meetings will not work on Internet Explorer.
Login with your email and password.
If you have forgotten your password, you can reset it by clicking on the FORGOT PASSWORD link.
Once logged into the platform, you will be taken to your profile page

To participate in the 1x1 Meetings, please navigate to the 1x1 Meetings Tab at the top of the page.
Once you get to the 1x1 schedule, make sure you have the drop down selected to MY MEETINGS.
To join the meeting, simply click on the the green JOIN MEETING button
Here you will see a list of your scheduled meetings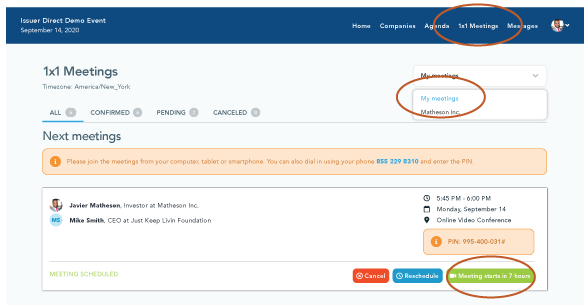 Please Note:
Once you click on a meeting, your browser might ask you to grant use of both your camera and microphone, Be sure to ALLOW any browser pop ups for Camera and Microphone access. If you do not get any pop ups and your video or sound is not working, please check your personal browser settings.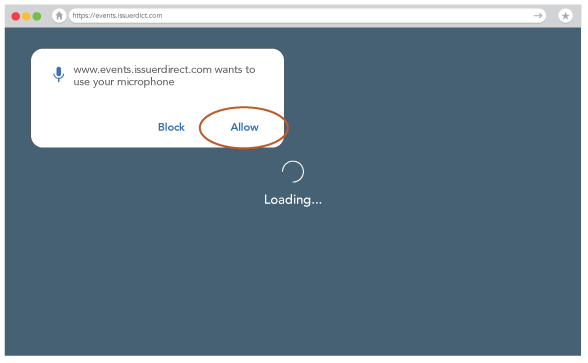 Some companies have strict firewall settings may prevent users from accessing meetings.
If issues persist after browser settings are corrected, attempt to join the meeting from a different network or contact your company IT department.
Congratulations you are in the meeting. When a second user joins, the meeting room will automatically connect participants. If you can see and hear each other, you're ready to conduct the meeting.
On this meeting screen, you will be able to mute your microphone, turn off your camera and share your screen by clicking the appropriate icon on the bottom center of your screen.
IF YOU CAN'T ACCESS YOUR VIDEO PLEASE USE THE NUMBER ON THE TOP OF THE 1X1 AGENDA AND THE PIN ASSOCIATED WITH EACH MEETING TO CONNECT TO YOUR 1X1 MEETING